AnkiDroid: Anki on Android
Wouldn't it be great if you could review your Anki cards on the go, instead of having to be at your main computer? If you have an Android phone, tablet, or other device, try AnkiDroid!
AnkiDroid is a free, open source app that lets you review your Anki decks on any Android device.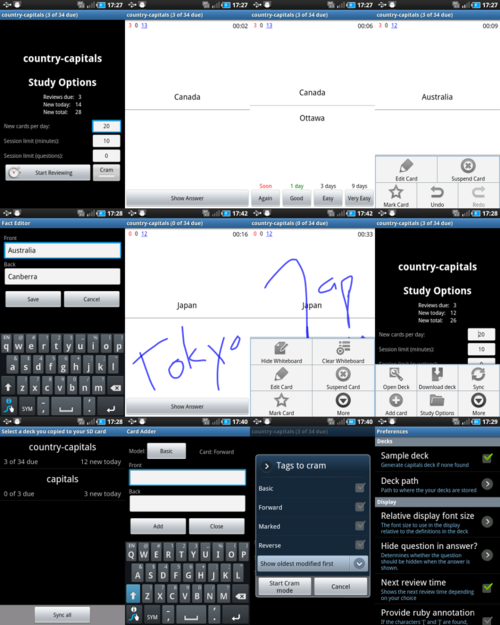 If your device is big enough, you can add cards right there. On a phone or other small device, you'll make your decks with Anki, then sync them over to AnkiDroid for study.
AnkiDroid has changed the way I review. Instead of being tied to my main computer for my reviews, I can study while I'm riding in the car, taking a walk, or relaxing in my living room.
Start Using AnkiDroid
Don't Have an Android?
If your mobile device doesn't use Android, you have other options.
iPhone/iPad: The Anki developer, Damien Elmes, offers an iPhone or iPad app. It's not free, but as the author explains, the proceeds help him develop the whole Anki ecosystem.
For other mobile devices, you have other options.
Is AnkiDroid Worth the Trouble?
If you're not comfortable with mobile devices, AnkiDroid might not be worth it. AnkiDroid doesn't do anything special that Anki doesn't do. It just makes it possible to study on a mobile device.
But if you already use a mobile device on a regular basis, AnkiDroid is definitely worth it. Some mobile apps seem like a real stretch, but flashcard review is a perfect use for small, mobile screens.
Every day has little bits of in-between time that can easily go to waste. You may already be filling this time with other good apps, but consider this: flashcard review can easily get pushed to the end of the day. And then postponed to the next day.
With AnkiDroid, you can work on your cards a little bit at a time, throughout the day. It's a great way to make sure your work doesn't pile up and get postponed.
Plus, unless you have an exceptional workspace, you can probably be more comfortable almost anywhere else than at your main computer. Right? So go try it.